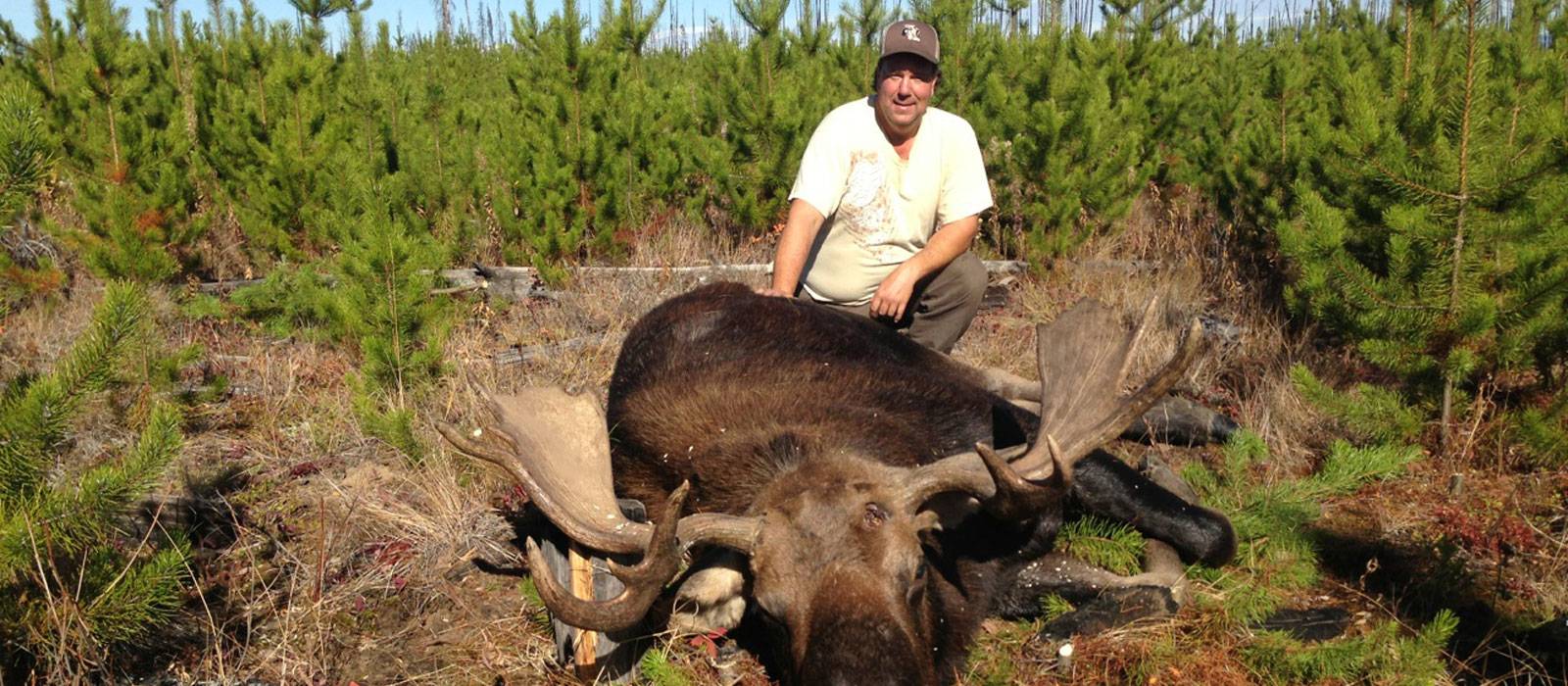 GUIDED MOOSE HUNTING, BC, CANADA | BATNUNI LAKE GUIDES & OUTFITTERS
Canadian Moose Hunting Trips | BC Moose Hunts
Moose hunts are conducted during the prime rut times, from mid-September to the end of October, when the animals are responding to calling. This helps ensure the success of the hunter. 40 & 45 inches is roughly the average size moose in the area. However, moose in the 50-inch range have been taken yearly!
Moose Hunts start at $9995.00
You will be introduced to your hunting guide, go over a few things, and begin the moose hunt that afternoon. We provide field caping, and salting of your moose cape. Ask us for details on meat cutting and taxidermy preparation.  Departure is in the evening on the last day of the hunt. Additional days may be purchased at a day rate if available.
What to Expect on Your Moose Hunting Trip
Once you have booked a moose hunt, we will mail you our information kit that will go over the details of your hunt, our location, and other relevant information.
For Hunters Flying In: For hunters flying in, we will meet you in Prince George at 9 AM on the start date for pick up, and take you to our spectacular Batnuni Lakefront accommodations.
For Hunters Driving In: If you have decided to drive? We will meet you in Quesnel, BC, Canada and guide you to the spectacular Batnuni lakefront accommodations.
Arrival At The Batnuni Lake Accommodations: Once you settle in at the lakefront accommodations. We will perform a rifle check to confirm it is in working order and safe to use. After the rifle check will then have lunch and get ready for the hunt.
For more information and pricing – call us at 1-877-228-6864 or CONTACT US.
MOOSE HUNTS AT BATNUNI LAKE
​Batnuni Lake Guide and Outfitters is considered to have the top moose hunting guides and outfitters in BC, Canada. Recent government population surveys on our Game Management Zone, show that Moose population is stable and increasing. Our bull to cow ratio is one of the highest in B.C., which makes a prime location for your next BC, Canada moose hunt.
A commonly asked question we get from our hunting guests …

Tag a bear this fall season and enjoy an outdoor …
Important Information About Your Moose Hunt
All Government fees based on 2020 rates and subject to change. Moose Hunt dates are tentative and subject to change. Any wounding of Game is considered fatal and a harvested animal. The rest of the hunt will be spent looking for the game until outfitter is satisfied.
H.S.T. Tax 6% applies to everything. The moose hunting price does not include Hunting License, Species Tags, and Non-Resident Hunter Preservation Fund Fee or HST tax.
Facts About BC Moose
Today, British Columbia has about 170,000 Moose. Over 70 percent live in northern British Columbia and the rest in the Cariboo-Chilcotin, Thompson-Okanagan, and Kootenay regions. Moose are essentially solitary animals that move about within familiar summer and winter home ranges. Moose has been one of the most important game species in British Columbia, providing more meat than all other ungulates combined. The Moose is also a valued trophy animal, and provides several hundred thousand days of recreation for hunters and the meat the successful hunters take home.