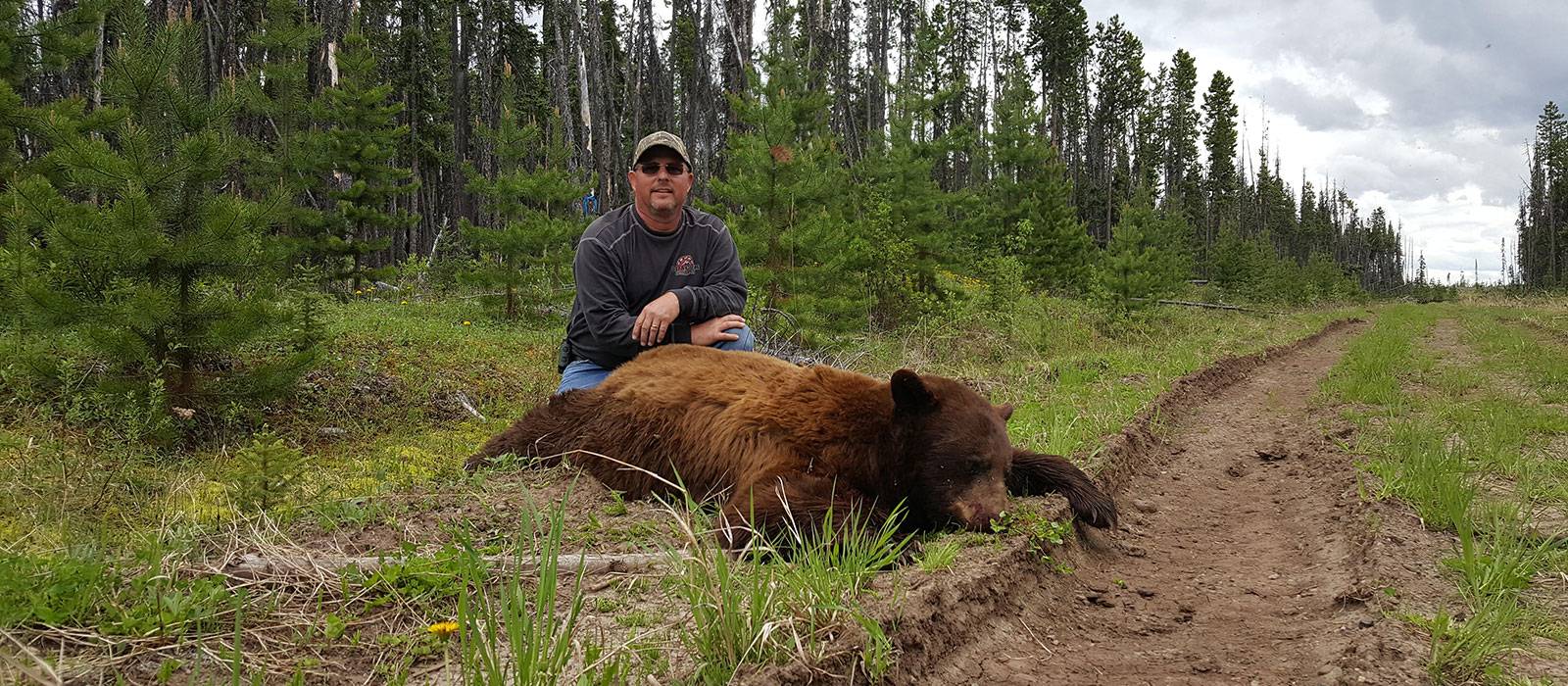 BC BEAR HUNTING WITH BATNUNI LAKE GUIDES
BC Black Bear and Color-Phased Bears
With the healthy high-density population of black bears, you can expect to see bears ranging in size anywhere from 5 to 7 1/2 feet with some of the bears weighing in at 500 lbs.
Bear Hunts start at $4495.00
After introduction to your hunting guide, you will begin the bear hunt that afternoon. During the hunt we will either use 4×4's, boats and/or horses. The method of hunting is spot and stalk; this helps to maintain a healthy black bear population and to give you an amazing BC bear hunting experience. Departure is in the evening on the last day of the hunt. Additional days may be purchased at a day rate if available.
What to Expect on Your Hunt
Upon booking your bear hunt, we will mail you our information kit that will go over the details of your hunt, our location, and other relevant information.
For Hunters Flying In: Hunters flying in, we will meet you in Prince George at 9 AM on the start date to pick you up, and take you to our spectacular Batnuni lakefront accommodations.
For Hunters Driving In: However, if you should decide to drive, we will meet you in Quesnel, BC and guide you to the Batnuni lakefront accommodations.
Arrival At The Batnuni Lake Accommodations: You will be able to settle in once we arrive at our spectacular lakefront accommodations. We will perform a rifle check to confirm it is in working order and safe to use. After the rifle check will then have lunch and get ready for the hunt.
For more information and pricing – call us at 1-877-228-6864 or CONTACT US.
BEAR HUNTS AT BATNUNI LAKE
Batnuni Lake is one of the top BC bear hunting spots in British Columbia. Our rate of successful hunts combined with the healthy population of BC black bears and color-phased bears makes it one of the best hunting experiences in British Columbia.
A commonly asked question we get from our hunting guests …

Tag a bear this fall season and enjoy an outdoor …
Important Information About Your Bear Hunting Trip
All Government fees based on 2020 prices and subject to change. BC bear hunting trips dates are tentative and subject to change. Any wounding of Game is considered fatal and a harvested animal. The rest of the hunt will be spent looking for the game until outfitter is satisfied.  H.S.T. Tax 6% applies to everything. Bear Hunt price does not include Hunting License, Species Tags, and Non-Resident Hunter Preservation Fund Fee or HST tax.
*TENTATIVE HUNT SCHEDULE AND FEES FOR THE YEAR 2020
Facts About BC Bears
British Columbia's resident black bear population is among the largest in the world with an estimate 100,000+ bears roaming the province. The hunting of black bears in BC takes place over two seasons, spring and fall. The spring hunt usually begins in April and ends in June and the fall hunt usually starts in September and ends in December. There is NO baiting allowed of bears in BC and it's really not needed. Hunting bears in BC is largely spot and stalk and the bears are often glassed in clear cuts and old logging slashes where there is plenty of greens for this large omnivore to eat. Black Bears are a common table fare for many BC hunters and the meat is excellent when properly processed into items such as hams, sausages, smokies, pepperoni and other smoked delicacies.