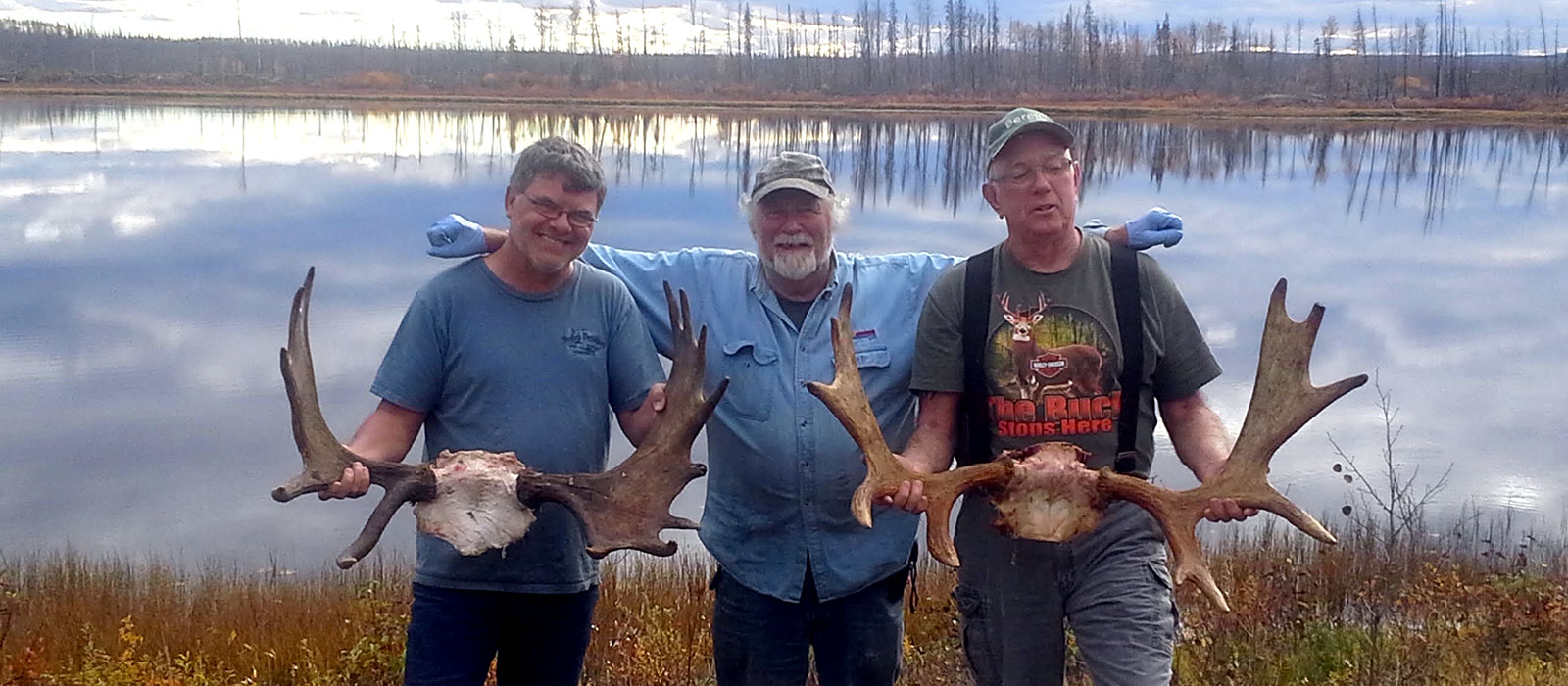 MOOSE HUNTS BC
Moose hunts are conducted during the prime rut times, from mid-September to the end of October, when the animals are responding to calling. This helps ensure the success of the hunter. 
BC BLACK BEAR
With the healthy high-density population of black bears, you can expect to see bears ranging in size anywhere from 5 to 7 1/2 feet with some of the bears weighing in at 500 lbs.
COUGAR/LYNX HUNTS
The terrain in the Batnuni Lake area is well-suited for cougar. Cougars rely on stealth and their ability to avoid detection while stalking prey. The natural cover provided throughout the area is perfect. 
BC Hunting Packages
Batnuni Lake Guides and Outfitters can offer a wide range of BC Canada hunting packages and exciting adventures.  Moose Hunts, Bear Hunts, Cougar or Lynx Hunts, we have experienced guides to make any of them successful. We also can offer fishing trips for the Famous wild Blackwater trout, for a different outdoor experience. Come explore the natural beauty of British Columbia Canada with Batnuni Lake Guides and Outfitters. It truly is one of the best areas for hunting in British Columbia.
About Us
Lyle & Jim your hosts have over 60 years of combined guiding and hunting experience in British Columbia. Batnuni Lake Guides and Outfitters offers outstanding levels of service and hospitality that is second to none. Lyle is no stranger to the Outfitting Business as having ran an Area in the Southern part of BC and was past President of the Southern Guides under Guide Outfitters Association of BC. Jim has also been involved as a Director with the Wild Sheep Society of BC for many years and a member for 18 years with Guide Outfitters Association of BC.
Not only do Lyle & Jim give you a 110% effort in providing the best hunting trip experience, but also work hard to make sure you get your moose, bear, or other big game animals during your hunt. They have been hunting the same area for the last 18 years and it is the secret of their success. They are in camp every day guiding hunters or conducting daily business, not many owners of Guide area's can claim that. Some claim to be full time Outfitters but are never seen after booking your hunt and that is the difference between Batnuni and others. We guarantee you a professional and ethical hunting experience every time. Learn more about what to expect, or get in touch with your questions about big game hunting in British Columbia.
Batnuni Lake Guides & Outfitters have been featured on the following sportsman enthusiast broadcasts; Outdoor Channel , Wild TV with Cabelas' Ultimate Adventures and North America's favorite hunting couple, Ralph & Vicki Cinanciarulo from Archers' Choice.
What to Expect on Your Hunt
Our combination hunts are arranged on an individual basis, thus assuring you a more personal and satisfying experience for your hunt. We have had successful hunters of all ages, demographics and various hunting skill levels.
Our hunt starts from the moment we pick you up in Prince George, BC where we will greet you and bring you back when your hunting excursion is complete. However, if you should decide to drive, we will give you directions to your camp's front step and then guide you from there. We supply everything upon your arrival at the camp; however we do not provide beer, wine, liquor or personal amenities.
In order not to waste valuable hunting time, hunting licenses and tags are billed and purchased prior to your arrival. We will provide you with the forms and instructions for obtaining your Firearms Permit and Access to bring your rifles into Canada. This is a requirement by law, yet the process is simple and straightforward. Allow yourself approximately 30 days for the process to complete, otherwise plan on spending at least one hour at the airport immigration office completing the forms.
All "fees" are required to be paid in full prior to embarking on your hunt from here.
Our Hunting Area and Location
Batnuni Lake Guides & Outfitters operates its Moose and Bear Hunts within a huge area of roughly 2500 square miles of  prime Canadian Moose and Black Bear habitat. We have over 200 lakes and 3 major rivers, the Blackwater, Euchiniko and Chilako. The area is made up of; timber, logged areas, lakes, creeks and beaver swamps. This provides you with one of BC's premier moose, bear, timber wolf, cougar and lynx habitat.
The elevation runs from sea level upwards of 6000 feet. Located on the game rich Nechako Plateau in south central British Columbia, Canada. Just 2 hours south of Prince George and 2 hours west of Quesnel delivers a robust challenging terrain that is easy to get too. A successful hunt is high, as the area is on a tightly regulated draw system. This area has very limited hunting pressure.