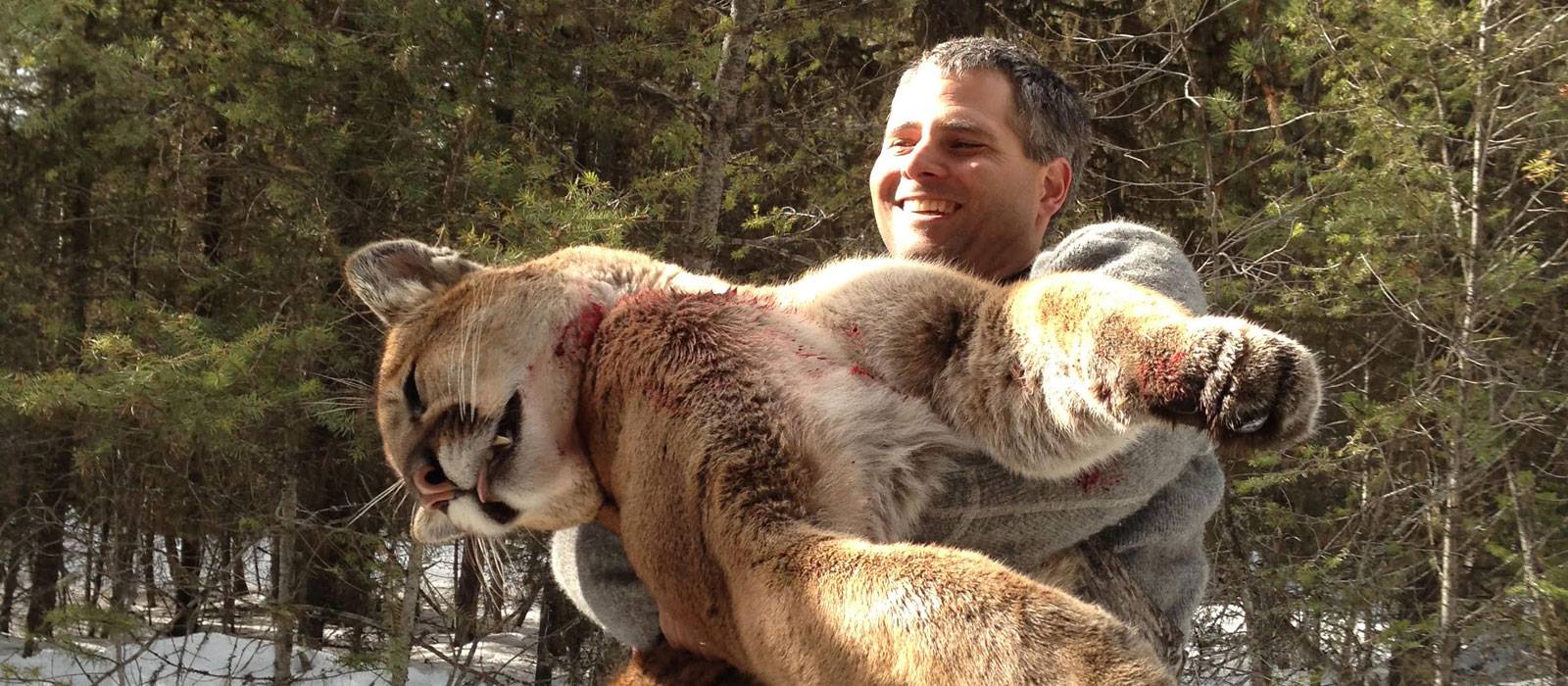 COUGAR/LYNX HUNTS WITH HOUNDS
BC Cougar and Lynx Hunts
The terrain in the Batnuni Lake area is well-suited for cougar. Cougars rely on stealth and their ability to avoid detection while stalking prey. The natural cover provided throughout the area is perfect for these majestic cats. The terrain in the Batnuni Lake area is also well-suited for the Lynx. Like Cougars, Lynx also relies on stealth and their ability to avoid detection while stalking prey. The natural cover provided throughout the area is the perfect habit.
You will be introduced to your hunting guide and begin the cougar hunt that afternoon. We use some of the best tracking hounds to track the cougar.  Departure is in the evening on the last day of the hunt. Additional days may be purchased at a day rate if available.
What to Expect on Your Hunt
Upon booking your cougar hunt, we will mail you our information kit that will go over the details of your hunt, our location, and other relevant information.
For Hunters Flying In: Hunters flying in, we will meet you in Prince George at 9 AM on the start date to pick you up, and take you to our spectacular Batnuni lakefront accommodations.
For Hunters Driving In: However, if you should decide to drive, we will meet you in Quesnel, BC and guide you to the Batnuni lakefront accommodations.
Arrival At The Batnuni Lake Accommodations: You will be able to settle in once we arrive at the Batnuni lakefront accommodations. We will perform a rifle check to confirm it is in working order and safe to use. After the rifle check will then have lunch and get ready for the hunt.
For more information and pricing – call us at 1-877-228-6864 or CONTACT US.
COUGAR/LYNX HUNTS
We offer an exclusive predatory hunting package that will provide hunters with the challenge of hunting our indigenous cougar and lynx. With our high population of large cat prey (deer, moose and, elk) in our area, there is an increased possibility of a great chase and a successful hunt.
A commonly asked question we get from our hunting guests …

Tag a bear this fall season and enjoy an outdoor …
Important Information About Your Cougar Hunting Trip
All Government fees based on 2020 prices and subject to change. BC bear hunting trips dates are tentative and subject to change. Any wounding of Game is considered fatal and a harvested animal. The rest of the hunt will be spent looking for the game until outfitter is satisfied.  H.S.T. Tax 6% applies to everything. C Hunt price does not include Hunting License, Species Tags, and Non-Resident Hunter Preservation Fund Fee or HST tax.
*TENTATIVE HUNT SCHEDULE AND FEES FOR THE YEAR 2020
Facts About BC Cougars and Lynx
The cougar is the largest of the three wild cats in Canada and is a formidable hunter. A large male cougar can weigh over 100 kg but is likely to be in the 60-80 kg range. Typically females are about 25% smaller than males. The cougar's primary prey is deer. It will also feed on wild sheep, elk, rabbits, beaver, raccoons, grouse, and occasionally livestock. Cougars are most active at dusk and dawn. However, they will roam and hunt at any time of the day or night and in all seasons.  The Canada lynx (Lynx canadensis) is a medium-sized North American cat that ranges across Alaska, Canada and many of the contiguous United States. It is characterized by its long, dense fur, triangular ears with black tufts at the tips, and broad, snowshoe-like paws. A specialist predator, the Canada lynx depends heavily on snowshoe hares for food. The Canada lynx hunts mainly around twilight, or at night, when snowshoe hares tend to be active.